Adams County, Colorado, is a county of just over 522,000 residents. It is a vibrant, diverse population of people, coming from many different cultures and ethnicities and is the first minority-majority county in the State of Colorado. Adams County thrives to meet the needs of its residents. As a result of the funding from the Federal government through the Coronavirus State and Local Recovery Funds and the American Rescue Plan Act, Adams County has been able to assess current needs and build projects and programs to meet those needs.
Adams County utilized multiple forms of community engagement to assess the needs of the different communities within its borders. Through this engagement, plans were made to partner with existing programs to expand the programming's reach and/or services, as well as to begin new programs to meet unmet needs. Promoting equity and ensuring all residents have equal access is a priority and has continued to be one through the decision-making process.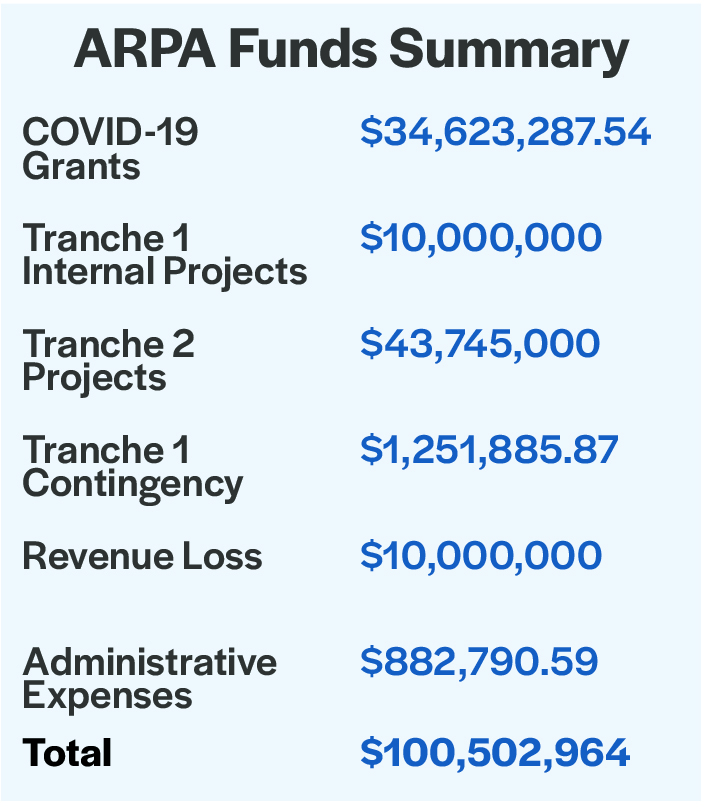 Funds were utilized initially to meet the immediate needs of residents brought on by the COVID-19 pandemic. These needs, funded through Tranche 1 dollars, were categorized as both internal and external priorities for the county. Tranche 1 dollars also included money for contingencies.
Once the immediate needs of the pandemic's impact were met and the country moved into a post-pandemic mindset, Adams County shifted its thinking into resiliency. Again, taking information from the community engagement process, Adams County began making plans for Tranche 2 dollars. Those funds are being funneled into programs with long-term goals for residents. Tranche 1 projects are outlined per the required Federal template. The county is in the beginning stages of launching Tranche 2 projects.
Adams County worked diligently to provide support and assistance to all residents during the COVID-19 pandemic and will continue to do so. County leadership is committed to making Adams County a safe community with ample opportunities for work, play, and health.